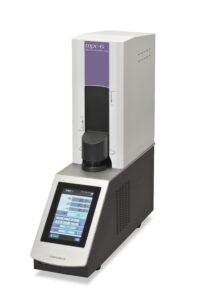 ● Simple : Ergonomic design for intuitive operation
● Robust : Premium design and high quality finish for many years of reliable use
● Versatile : User management with password, data storage (Max. 50 results) and connectivity (Ethernet)
Tanaka's new Automatic Pour /Cloud Point Tester mpc-6 is designed with "Simple, Robust and Versatile" concepts. The mpc-6 required mere 4.5ml sample and provides quick automatic determination of Pour / Cloud Point with high precision.
Intuitive 7-inch Touch-Screen Operation
Simplicity ensures smooth operation.
Extremely Simple
Set sample cup, input expected points and then press start. Pre-heat and cooling sequence is run automatically and both pour and cloud point results can be obtained in a single run.
Search Mode for Unknown Samples
The new SPE mode will test pour point with different pressures so that parameter optimization can be easily done.
Data Connectivity and Management
Data can be exported to LIMS or optional printer via Ethernet.
Data Storage for up to 50 data can be secured with password.
Eco-friendly
Equipped with CFC-free cooler achieving low noise, low vibration, and energy-saving. Sample temperature of -80℃ can be reached without external chiller.

Principle of Pour Point Detection
TANAKA's MPC series has been designed for automatic determination of POUR POINT (PP) and CLOUD POINT (CP) with small specimen size and shorter test cycle time while securing better test precision than the conventional manual methods.
PP measurement is by "AIR PRESSURE METHOD" (ASTM D6749), and CP measurement is by "SMALL TEST JAR METHOD" (ASTM D7683).
The epoch-making automatic PP test method yields 1°C test resolution, while the new CP method yields 0.1°C resolution.

Specifications
 Methods

PP
Compliant Methods
ASTM D6749
Reference Methods
ASTM D97, ISO 3016, JIS K 2269
CP
Compliant Methods
ASTM D7683
Reference Methods
ASTM D2500, ISO 3015, JIS K 2269
Measuring Range
-90℃ to +45℃ or Expected pour point + 10℃ (at temperature of 25℃)
Bath Temp Range
-100℃ to +45℃ (at room temperature of 25℃)

Measurement Modes

PP/CP, PP, CP

PP Pressure : L, H, VH, UH, SPE, Custom
PP Intervals : 1.0℃, 2.5℃, 3.0℃, Custom
CP Intervals : 0.1℃, 1.0℃
Size (W x D x H)
W160 × D600 × H620 mm
Weight
30 kg
Power Consumption
AC 100 to 240 V 200 VA (max)  50 / 60Hz