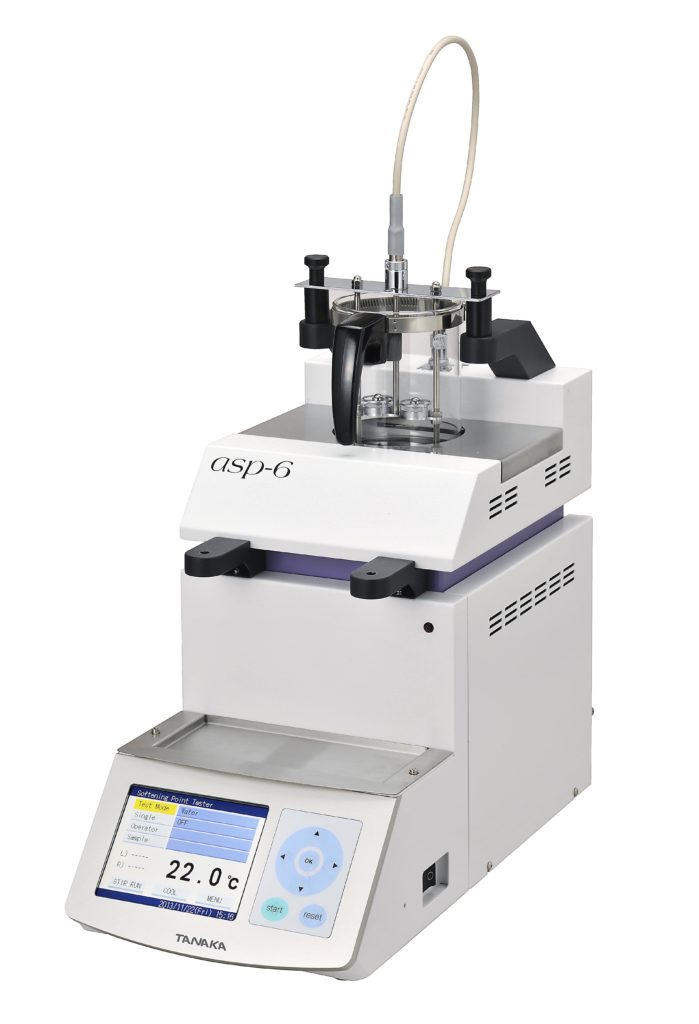 asp-6 automates softening point test of bitumen and other materials by utilizing photo-electric device with a wide light beam, which assures reliable detection.
Stirring function has been newly applied and a test can be done with one of the four test modes; Water, Glycerin, Water+Stirring, Glycerin+Stirring.
200 test results can be stored in the data memory.
Generation of harmful vapor from overheated glycerin is prevented by the safety shutdown.

Specifications
Test Methods
ASTM D36, ASTM E28, ASTM D6493, EN 1427, IP 58, JIS K 2207, JIS K 2425
Type
ring and ball, 2 tests
Range
ambient to 200°C (392°F)
Display
5.7 inch color LCD with back light
Temperature sensor
PT-100 in stainless steel sheath
Detection
by a photo transmitter / receiver
Size (W x D x H)
230 × 470 × 440 mm
Weight
15kg
Power Consumption
AC 100 to 120 V 1,500 VA (max) 50 / 60Hz
AC 220 to 240 V 1,300 VA (max) 50 / 60Hz