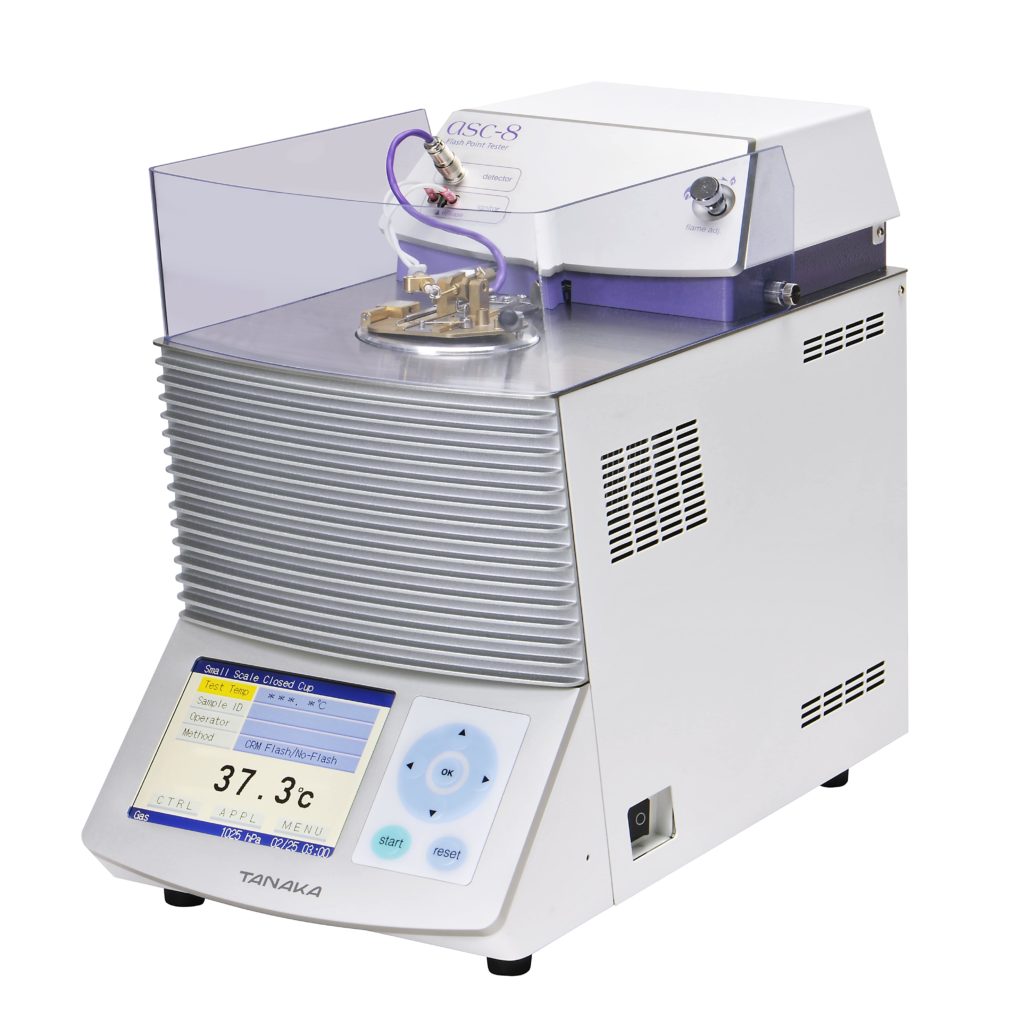 Since 1966, Tanaka has been delivering automated flash point testers for higher productivity at petroleum laboratories. The theme of the 8th generation model series is " Ergonomic, Versatile, Robust and Safe "
●Ergonomic: Color coordinated display and switches for high visibility / intuitive operation, and universal design
●Versatile: USB port for USB flash drive or keyboard, password protection and enhanced data storage
●Robust: Premium design and high quality finish suited for many years of reliable use
●Safe: Enhanced safety with fire containment system (Default for apm, atg & aco, optional for abl)
Further improved Swing Arm Assembly for easy setting and cleaning :
After inserting the test cup in the instrument, just lower the swing arm assembly onto the test cup to set all the necessary components for the test, including the ignition source, temperature sensor, flash detector and stirrer (in case of apm, atg and abl series). After the test, lift the arm to the complete upright positon for easy cleaning.
The latest addition to Tanaka's flash point series is the automated small scale closed cup flash point tester, asc-8c. Compared to conventional flash point methods, this model requires very small sample volume (2ml or 4ml). To accommodate various methods, this model is equipped with Flash / No Flash mode, Ramp mode, CRM mode, and Custom mode.
asc-8h (high temperature type) has been released following the current model, asc-8c.

Specifications
Test Methods
ASTM D3278, ASTM D3828, ASTM D7236, ISO 3679, ISO 3680, IP 534, JIS K 2265-2
Measuring Range
asc-8c: -20℃ to 135℃, -30℃ to 135℃ with an optional chiller
asc-8h: Ambient to 300℃
Temperature Sensor
PT-100 in stainless steel sheath
Flash Detector
CRC thermocouple
Ignition Source
Gas flame or electric coil
I/O Port
RC-232C and USB, 1 each
Size (W x D x H)
230 x 470 x 390 mm
Weight
asc-8c : 19kg asc-8h : 18 kg
Power Consumption
AC 100 to 240 V 50 / 60Hz
asc-8c: 400 VA (max) asc-8h: 250 VA (max)