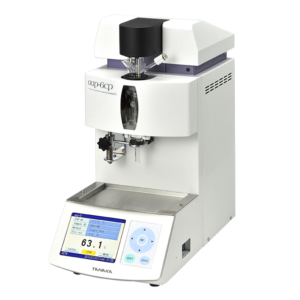 Model aap-6cp automates the cloud point test of nonionic surfactants.
Ergonomically color-coordinated display for high visibility and intuitive switch operation.
Enhanced versatility including Ethernet for LIMS, USB port for flash memory or keyboard, password protection and data storage (max.200 results).
All-in-one chassis design: compact, light weight and premier exterior.
User-friendly measuring cell
The measuring cell can be easily removed and water jacketed meauring cells are also available as an option for sub-ambient temperature.
Easy operation
Just sample the specimen, enter the expected cloud point,and press the START key; all the rest of the test procedures such as eating,
cooling and cloud point detection are performed automatically.

Specifications
Related Test Methods

ASTM D2024

Samples

Nonionic surfactants

Measuring Range

Ambient +20 to 90 ℃ (194 ℉)
For below ambient + 20 ℃, use the optional water jacketed measuring cell and a cryostat.

Temperature Sensor

Pt100 in stainless steel sheath

Cloud Point Detector

Photo-electric cell, with special detection circuitry

Measuring Cell

Modified U-Tube type. Vacuum jacketed glass cell with PTFE stopcock at the bottom for drainage.

Display

5.7 inch color LCD with LED back light

Heater

Immersion heater in stainless steel sheath: 20W

Sequence Control

By an on-board microcomputer

Test Mode

Cloud Point Test, Manual Temp Set

I/O Ports

Ethernet x 1 for LIMS
USB x 1 for Flash Memory or Keyboard
RS-232C x 1 for PC or Optional Printer

Safety Mechanism

Automatically shuts off and the problem is reported by buzzer and display, in case:
(a) ECP+10 ℃ is reached
(b) Temperature sensor is found defective
(c) Light projector or receiver is found defective
(d) Built in battery is found drained out.
(e) Control computer runs away (no display)

Size (W x D x H)

230W x 470D x 490H (mm)

Weight

14 kg

Installation Environment

RT: 10 to 40 ℃ RH: Less than 90%

Power Supply

AC100 V to 240V 200 VA (max) 50 / 60 Hz

Standard Accessories

1.1000069 Measuring Cell, Lower   1 pc
2.1000886 Bushing for AAP  1 pc
3.1000878 Measuring Cell Stand   1 pc
4.1003737 Hexagonal Wrench   1 pc
5.1000708 Glass Tube Fuse (2A)   1 pc
6.1001507 AC Power Cord, 3.0m for 100 to 120 V   1  pc
7.1006151 AC Power Cord, 2.5m for 220 to 240 V   1 pc
8.USB Stick   1 pc

Optional Accessorie

1006018 Printer, NEX-C200R01 100V   1 pc
1006019 Printer, NEX-C200R05 200V   1 pc
1005861 Printer Roll Paper W58XD50   1 pc
1000262 Mini USB Keyboard   1 pc
1000070 Water Jacketed Measuring Cell, Lower   1 pc
1000871 Insulating Tube for Low Temp.   1 pc

Suggested spares

1000882 Measuring Cell, Upper, 2-Inlet   1 pc
1000069 Measuring Cell, Lower   1 pc
1000892 Temperature Sensor   1 pc
1000892 Heater   1 pc
1000708 Glass Tube Fuse 2A   1 pc