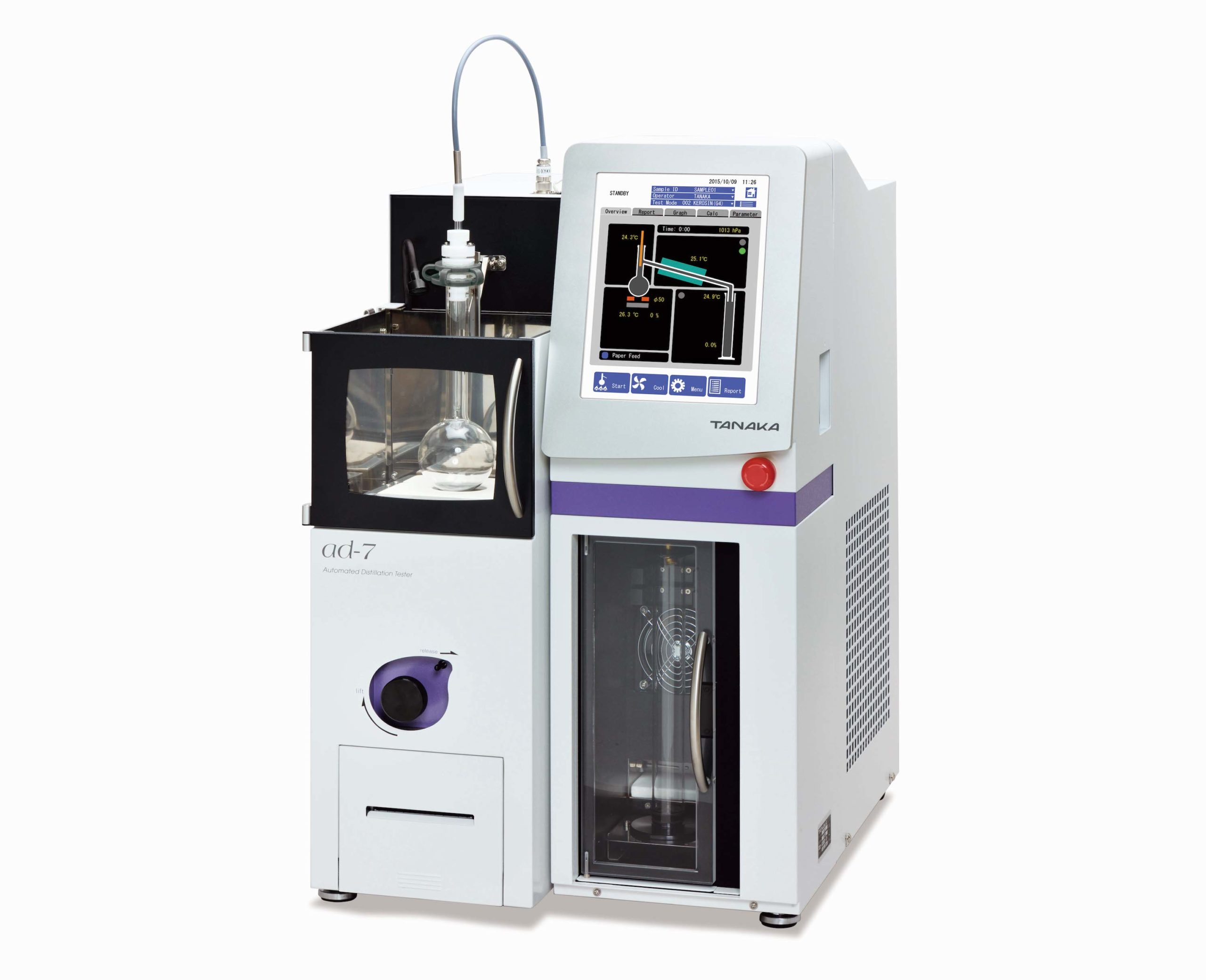 Ergonomic, Robust and Versatile
It's been over 50 years since we started manufacturing automated distillation testers. Nowadays, we deliver to customers in more than 70 countries.
ad-7 automatically performs distillation test of petroleum products as well as narrow boiling range samples. 10.4 inch LCD with tough panel has been adopted for easy and intuitive operation. Peltier system is employed for cooling / heating of the condenser and receiver cylinder compartment. Robust design for continuous use.
User-friendliness
10.4 inch (*) Color LCD. * 4 times larger than previous model
Intuitive operation by Touch Panel
Advanced data management software; TDAS (Tanaka Data Acquisition System)
Safety
Fire Containment System: Heater shuts down when ultraviolet sensor detects a fire, and CO2 gas flows into the heater compartment (if connected to CO2 source).
Flask Catcher reduces the risk of breaking vapor tube of flask.
Overheat protection: Heater shuts down automatically at the upper end of the temperature scale.
Versatility
200 test modes
5,000 test results
RS-232C, USB port, Ethernet
Specifications
| | |
| --- | --- |
| Test Methods | ASTM D86, ASTM D850, ASTM D1078, ISO 3405, IP 123, JIS K 2254 |
| Range | Ambient to 450℃ |
| Display | TFT-LCD 10.4 inch color touch-screen with universal design GUI |
| Temperature Sensor | PT-100 for Vapor, Condenser and Receiver room. Thermocouple for Heater |
| Heater | 24 V 600 W Low mass and low voltage heater, spiral type |
| Distillation Rate | 4.5 % / min at factory (selectable from 2 to 9 % with 0.5 % increment) |
| Test Mode | Up to 200 test modes can be recorded |
| Safety Features | Overheat protection. Fire containment system |
| Correction | Loss correction and barometric correction |
| I/O Port | RS232C, USB x 2 and Ethernet |
| Size ( W x D x H ) | 430 x 520 x 710 mm |
| Weight | 59 kg |
| Power Consumption | AC 100 to 240 V 1,500 VA (max) 50 / 60Hz |